Deep Kick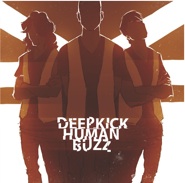 Deep Kick is a young and fiery power trio whose members breathe new life into funk/rock.

All the members show amazing technical and musical skills, their songs are personal and powerful, and their live shows rock! On stage, you will surely remember Deep Kick for their contagious amount of energy, passion and joy for playing.
David Caraccio : Bass and Vocals Fantin Moreno : Drum and Vocals Filo : Guitar
Deep Kick has already impressed more than a few people, and even beyond the borders of their home country. There's a lot of buzz about them on the Internet, with thousands of views on their Youtube Channel. Besides, Deep Kick has a strong Internet following, with fans eagerly waiting for news about the band, like their 10'000+ fans here on Facebook.
The main goal of this website is, after many requests from fans, to give them the possibility of ordering a physical copy of Deep Kicks records, so they can hold a real disc in their hands
Thanks for keeping real CDs alive!